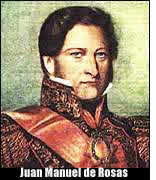 In the early hours of the afternoon of February 3, 1852, after the defeat and dispersion of the Federal Army and Rosas' escape from the battlefield, Urquiza's troops entered Buenos Aires victoriously, preceded by the famous Entre Ríos Lancers. People looked out their doors and windows to see them pass by and to convince themselves that Rosas had fallen and the Holy Federation had ended.
After the battle was over, the last Federal commander, the famous Colonel Chilavert, seated on a cannon and smoking a cigar, waited for the arrival of his enemies. General Urquiza, with whom he had an old animosity, ordered that Chilavert be shot immediately; the body of the brave soldier was hung from a willow tree in Palermo where it stayed until the following day.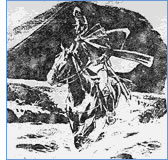 Colonel Santa Coloma, well-known for his cruelty during Rosas' time, hid behind the altar in the chapel located in the Barracas de Belgrano (then known as the "Alfalfares de Rosas"). He was discovered and an officer of the liberating army who had a score to settle with him ordered that he be taken from the sacred chapel and his throat slit.
As Urquiza's troops drew near, preceded by a mob which assaulted and vandalized the houses of the people, the pastor of San José de Flores gave shelter to women and children in the church; he stood in the atrium holding up a crucifix and valiantly defending the sacred space.
Surrounded by a group of soldiers who did not recognize him and who mistook him for a Federal officer, (not noticing the insignia which identified him as a military surgeon), the famous doctor and poet Claudio M. Cuenca was killed as he prepared to help the wounded. The poem against Rosas that he had written the night before as he travelled in his ambulance cart was found among his bloody clothes.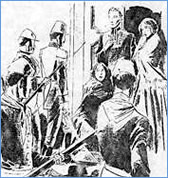 Gregorio Velarde, the famous and violent Unitario, returned with the rebels from Uruguay, full of hatred and avid for revenge and blood; he organized a legion to persecute and to execute all the members of the Mazorca and all Federals who had managed to incur his wrath.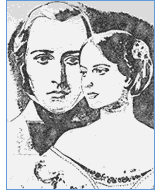 Alejandro Miranda, the young exile who had combatted Rosas with sword and pen during the siege of Montevideo, returned with the liberating army and went to see his former sweetheart, Adriana Pacheco, who, together with her father and her Federal fiancé, Olegario Mendizábal, had taken refuge in her country house in Flores, now in the pathway of the victorious troops and the mob.
A friend and relative of Alejandro Miranda, Velarde proposes to execute Don Jerónimo Pacheco, Adriana's father, to obtain what he calls "blood justice" . Adriana, the beautiful porteña [resident of Buenos Aires], has never forgotten her love for Alejandro. If Velarde kills his old enemy, a barrier of blood will separate Adriana and Alejandro.