On July 26, 2002, fifty years to the day after Evita's death, her grandniece, Cristina Alvarez Rodriguez, inaugurated the Evita Museum in Buenos Aires.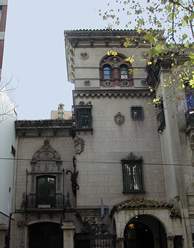 Evita, an icon whose historical importance spans two centuries, now has her own museum.
The Evita Museum is housed in a mansion constructed for the Carabassa family during the first decade of the 20th century. Architect Estanislao Pirovano gave the mansion its formal image which combines elements from both the Plateresque and Italian Renaissance styles.
This beautiful building was declared a National Historical Monument in 1999.
In 1948, the Fundación Eva Perón bought, restored and designated the mansion as Hogar de Tránsito (Temporary Home) #2, a shelter for women and children with no resources.
On July 18, 1948, Evita inaugurated El Hogar with these words, "The Temporary Home shelters those in need a nd those who have no home... for as long as necessary until work and a home can be found... ." Evita offered the women and children "an open door, a place set for them at the table, a clean bed," as well as "consolation and motivation, encouragement and hope, faith and self-confidence."
The walls of this building once echoed with the strong voice of Evita and the joyful voices of the women and children who found refuge in it. Now it houses the Museo Evita, a living museum where people can come to know, understand and appreciate the life of the most important woman of Argentine history.
Located at 2988 Lafinur Street in the Palermo neighborhood of Buenos Aires, the Evita Museum forms part of the cultural tourist trail of the City of Buenos Aires (together with the Decorative Art Museum, the National Fine Arts Museum, the Palais de Glace and the Latin American Art Museum).
Schedule:
Tuesdays to Sundays (and holidays) from 11 a.m. to 7 p.m.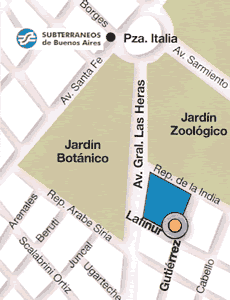 Admission until 30 minutes before closing.

Closed all Mondays, as well as January 1, May 1, December 24, 25 and 31

Inquire about guided visits for groups and schoolchildren

Library Hours
Mondays to Fridays from 2 p.m. to 6 p.m.

Transportation:
- Bus lines on Santa Fe: 12, 29, 36, 39, 55, 68, 111, 152
- Bus lines on las Heras: 10, 15, 37, 41, 59, 60, 64, 93, 95, 108, 110, 118, 128, 141, 160 y 188.
- Subway D line Plaza Italia Station.

For information on guided tours, phone: (5411)-4807-0306 y (5411)-4809-3168