On Friday, November 18, 2011, we received the incredible news that María Cristina Banfi had died early that morning.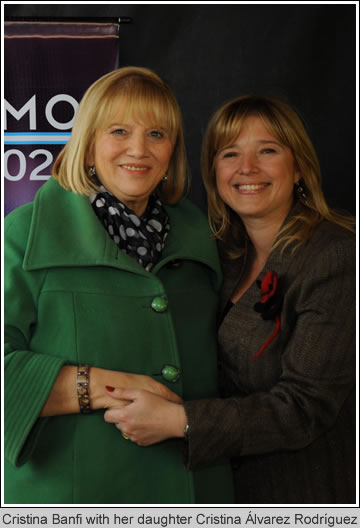 Surprise and indignation flooded my heart. Surprise at the acceleration of her illness. Sadness at the death of someone very dear to me. And indignation at the loss of her invaluable contributions.

Cristina Banfi, mentor of the Instituto Nacional Eva Perón and the Evita Museum, together with her daughter Cristina Alvarez Rodríguez, Blanca and Erminda Duarte, family members, friends, and a group of professionals in the fields of history and social science had given life to the Fundación de Investigaciones Históricas Eva Perón.

Evita was her greatest concern. She wanted to-and did-separate the myth from the person of flesh and blood. With patience and purpose, she fought against the offenses and the malicious distortions of Eva Perón's life.

She provided affectionate and enduring support for the Duarte-Alvarez Rodríguez family. Her good temper and Christian charity were evident in her valiant search for historical truth.

The offspring of an eminent doctor and a relative of the founders of FORJA, her anecdotes and life experiences enriched our meetings. She guided our investigative work.

Opinions, advice and orientation sprouted from her mouth and her actions. Living history of the 1970's: technological commandos, the return of Perón, Jauretche, José María Rosa, the nationalists, the Rosas Institute, Licastro, the guerrilla, Isabel, López Rega… She had an already formed opinion for all these topics, thus permitting me to understand perfectly a historic epoch of our convulsed country.

Today we are left with memories. With coffee and books in hand, she refuted and destroyed the stupidities that people repeated about Evita. Her action as a member of the Friends of the Evita Museum was vital and her guidance enabled the INIHEP to publish works of academic caliber.

Her jovial temperament and her dedication to national interests now serve as a lighthouse for us as we set our course and continue the fight to reveal historical truth.

I treasure the memory of my first meeting with Cristina and her daughter when I began to work on their project and started researching topics related to Evita and Peronism. Between debates and strong exchanges of opinion-she left nothing unsaid and defended her convictions vigorously-she became my mentor. Many of her comments enriched my texts and permitted me to make an in- depth study of our country's thought processes. I was fortunate in that she read my latest works with great attention and offered wise advice.

We remain-the members of the Evita Perón Foundation, the Instituto Nacional Eva Perón, the Evita Museum, and, most of all, her family and her daughter Cristina Alvarez Rodríguez, of whom she was immensely proud and who is both worthy and capable of continuing her work.

Just as Christ, living and merciful, is always with us, so is Cristina, who so venerated Christ. She will remain with us in the Institute and the Museum, and above all, in the work of her family and daughter.

And yet a devout and forward-looking Catholic has left us. A militant of our nation has left us. An authentic Peronista has left us. A good woman has left us.


Lic. Pablo A. Vázquez
Instituto Nacional Eva Perón
biblioteca@museoevita.org